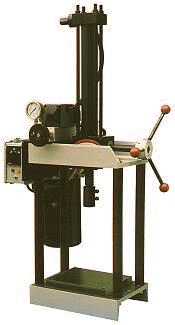 Combines all the advantages of a gear rack arbor press with Conway's "fingertip control" in a 5 ton hydraulic press.
Just position the ram against your work with the gear rack..only then, with "fingertip control" does the hydraulic system come into play, applying an easily adjustable force from 0 to 5 tons.
Specifications:
0 to 14 inch ram travel.
Variable "fingertip" force control from 0 to 10,000 lbs.
Adjustable pressure control valve located with gauge.
11-1/2 inch clearance side-to-side.
14-1/2 inch maximum opening (Daylight)
5-5/8" clearance front-back (between posts)
1" x 8" x 10" bolster plate.
2" center hole in base plate.
Weight: 245 lbs. Shipping Weight: 285 lbs.
Features:
Compact. Suitable for bench mounting.
Four-post, full-view steel frame.
Fast, easy ram return with gear-rack.
Safe. No hand guards required.
Frame mounted power unit.
Change setup in minutes.
Easy, low maintenance.
Easily accessible, serviceable 1 gallon oil reservoir, 1 HP, 1/2 gpm, 120 VAC direct-drive gear pump.
2 Year Warranty against manufacturer's defects!