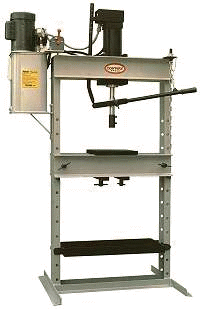 The fastest, most accurate, manually controlled, electric hydraulic press available anywhere!
Conway is the only press with fully valved, dual speed, hydraulic power without any of the air-over-oil complexities. Its patented recirculating fluid power system gives you fast positioning speed plus maximum ram pressure.
No other press can offer you such speed, flexibility, simplicity and dependability.
Once you've tried a Conway dual-speed press, you'll never be satisfied with any other.
Features:
The ram and piston "float" in the cylinder which allows rapid ram positioning and application of 20 tons of force.
11 inch stroke.
40 inch maximum distance, ram to table.
Welded steel frame for maximum rigidity and minimum deflection.
30 inch clearance between uprights.
Instant stop on ram force when handle is released.
Change setup in just a few minutes.
Accessory tray and two parallels are standard equipment.
3/4 inch steel table support pins cannot be shaken out-of-position when press is in use. Pin support holes in 4 inch increments.
Easily accessible, serviceable power unit with 4.5 gallon oil reservoir.
Two, 1 inch thick, locking, 6" x 11" press table work support plates.
2 Year Warranty against manufacturer's defects!
Specifications:
Frame:
Welded 5" steel channel H frame, 6" steel channel table supports.
30" inside side-to-side clearance.
40" clearance ram to table.
Table support holes space every 4 inches.
3/4" high strength steel table support pins.
Hand or wrench operated "T" nuts lock table and work plates.
Total machine weight: 430 lbs.
Shipping weight: 480 lbs.
Cylinder:
20 Ton force at 3,200 psi.
Dual speed cylinder manually retracts and extends. No force is applied until ram contacts work.
7 inch maximum ram travel.
11 inch maximum working stroke.
Hard chrome plated, 1-3/8 inch diameter, heat-treated ram with 1 inch diameter tool mounting stud.
Power Unit:
1 gpm gear pump.
2 HP, 3 phase or 1-1/2 HP single phase, totally enclosed motor.
Oversized suction filter.
10 micron screw-on return filter.
Visual oil temperature and level gauge.
Pressure relief valve set at 3,200 psi.
Pressure gauge.
Filtered air breather.
4-1/2 gallon oil capacity (ISO 46).
Controls:
All controls require 120 VAC supply.
Fully adjustable hand control lever.
Simple height control method allows quick setup and repeat operations to .005".